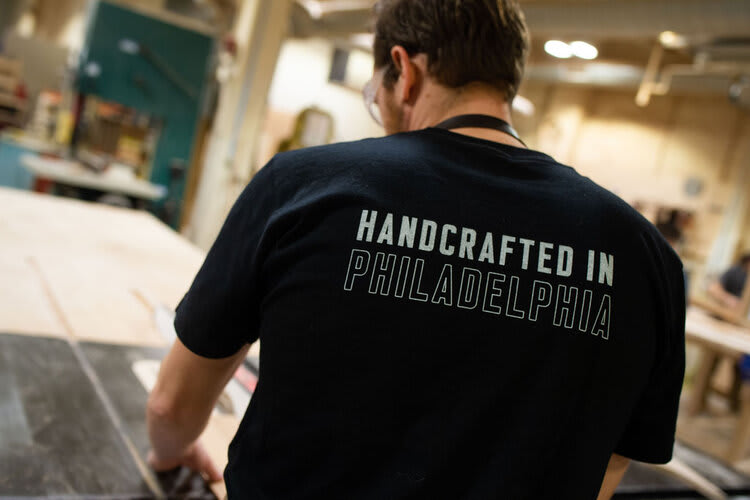 Nathan is a self-taught woodworker who started out by making the centerpieces for his wedding, which quickly evolved into gifts for family and friends. Now his small side-business, Vitale Wood Design, is a nice outlet from his full-time job in the film industry.
He strives to support other local and small businesses by sourcing local wood and materials.

He is known for his unique home & kitchen items, but always prefers large-scale projects like furniture. He has a small woodshop in his home but does the majority of his work at Makerspace. His wife Dani supports his business by managing marketing, Etsy and selling at local craft shows.

​​​​​​​Nathan and Dani are currently selling their beloved home in Fishtown, which has some of Nathan's handcrafted upgrades. Check out their home story !
---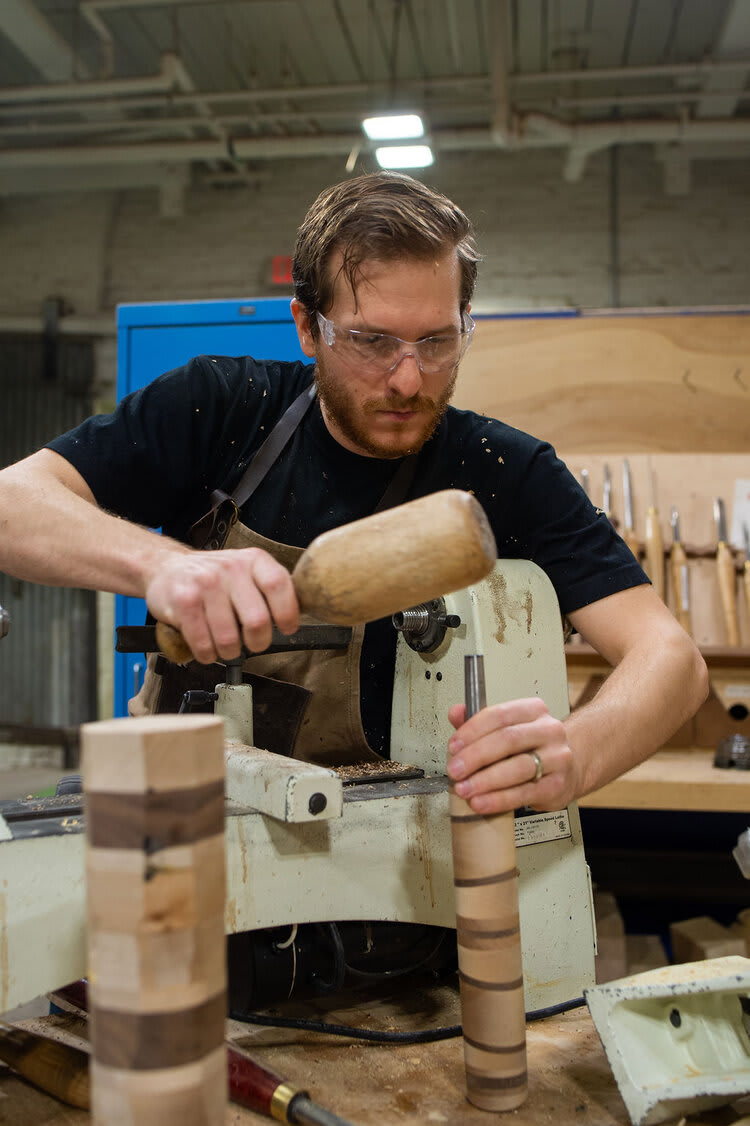 4. Where was your last road trip?
My wife and I drove up to Boston last winter as a last minute getaway. While it was a cold trip, we had a blast exploring the city and even had our own "Boston Tea Party" and threw some tea into the harbor on our way out.


5. If you wrote a memoir, what would be the title?
Sawdust for Brains
​​​​​​​

6. What's your favorite piece of Philly culture?
Toynbee Tiles! They are these metal plates with words and images which are mysteriously embedded in the streets around Philadelphia. I started noticing them when I'd be walking around the city - I know there has to be a story behind them but enjoy keeping the mystery of who placed them and why.


7. What's your favorite local meal?
WM. Mulherin's Sons. My wife and I make a reservation there every anniversary.


8. What makes you laugh?
Sunday morning cartoons will always get me giggling like a kid.


9. What is one thing you need in your work space to make it your own?
My wife bought me a great waxed canvas apron that is perfect for holding my scribing and measuring tools while keeping my clothes (relatively) clean. I find it impossible to work without having all of those things on me as I work around the shop moving from machine to machine.


10. What did you want to be when you were younger? Does that have any significance to what you do now?
My biggest joy as a kid was building towers and structures with legos or K'nex - so I guess things haven't really changed. Now I just have to mill my own pieces!


11. What is one book that changed your perspective?
The Illustrated Man by Ray Bradbury. It was the first sci-fi book I read and it captured my imagination. It's a collection of short stories, and I love how diverse the stories are yet all contain a common thread. I actually strive to have my work reflect this - embrace diversity while maintaining common ownable elements.


12. What do you need to make a decision?
A lot of time to think things over - and a glass of bourbon.
​​​​​​​
13. What's the best question you've ever been asked?
I always love when people ask how I create my pieces. I'm always down to talk shop with anyone interested in the craft, and really enjoy explaining the process of woodworking to those who aren't familiar.