If Zoe makes them, they have to be good.
We wanted to gift you her go-to recipe for gingerbread cookies this holiday season!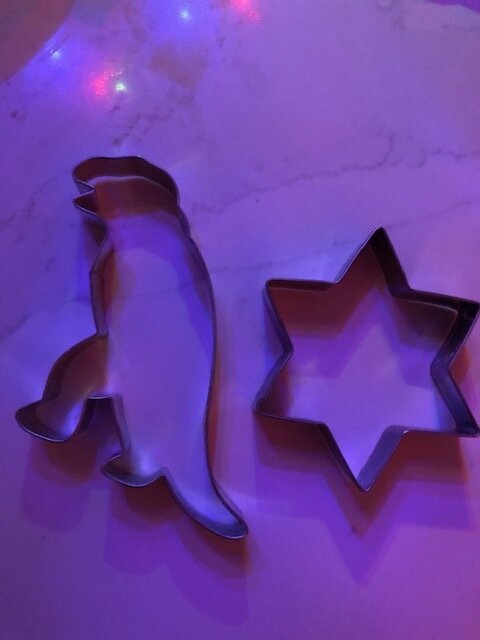 GINGERBREAD COOKIE INGREDIENTS:
To make this gingerbread cookie recipe, you will need:
Flour: I traditionally use all-purpose flour for this recipe, but white whole wheat flour will also work.
Spices: Ground cinnamon, ginger, cloves, and nutmeg.
Baking soda, salt, egg, and vanilla extract: Because…cookies.
Brown sugar: To add some extra molasses-y flavor to the cookies.
Butter: Softened completely to room temperature.
(Optional) Orange Zest: The subtle citrus notes pair really nicely with the cinnamon.
Plus any kind of icing, powdered sugar, sprinkles, or candies (such as red hots) that you would like to add on top of your cookies, either before or after baking. For the batch shown here, I just made a simple icing out of powdered sugar, milk, and vanilla extract.
GINGERBREAD COOKIE EQUIPMENT:
You will also need the following equipment to make these gingerbread cookies:
INGREDIENTS
GINGERBREAD COOKIES RECIPE:
3/4 cup unsalted butter, softened to room temperature
(optional) zest of one small orange
optional toppings: simple icing (see below), red hots, sprinkles, etc.
SIMPLE ICING RECIPE:
1. In a large mixing bowl, whisk together flour, cinnamon, ginger, baking soda, cloves, salt, and nutmeg. Set aside.
2. In an electric stand mixer fitted with the paddle attachment (or alternately, you can use a hand mixer and a separate large mixing bowl), beat the butter and sugar together for 2 minutes on medium-high speed until light and fluffy. Add in egg, molasses, and vanilla, and beat on medium speed until combined. Reduce the mixer speed to low, and gradually add the flour mixture until just combined.
3. Divide the dough into two equal portions, and form them each into a ball. Then gently use your hands to flatten each ball into a 1-inch thick disk, wrap tightly in plastic wrap, and chill in the refrigerator for at least 2 hours or overnight.
4. Once the dough is thoroughly chilled and you're ready to bake the cookies, heat the oven to 350°F and line a baking sheet with parchment paper; set aside.
5. Unwrap the dough and place it on a large, lightly-floured hard surface. Use a floured rolling pin to roll the dough evenly until it is approximately 1/8 inch thick. Then use your favorite cookie cutters to cut out your desired shapes, re-rolling the dough as needed to cut out more. Transfer to parchment-covered baking sheets.
6. Bake for 8 to 10 minutes, or until the cookies are crisp around the edges and on top. Remove from oven and let cool for 5 minutes, then transfer to a wire rack to finish cooling.
7. Once the cookies are at room temperature, feel free to decorate them as desired with the icing (see below) plus any extra sprinkles or candies. Serve and enjoy immediately, or store in a sealed container for up to 4 days.